Design
& planning
Starting from 1996 and moving along with technology and engineering industry evolution, we are steadily providing sustainable and quality design services.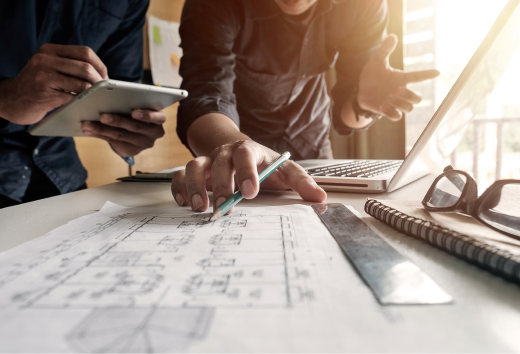 Our expertise covers all types and scales of:
Civil & Structural Engineering
Geotechnical Engineering
Tunnel Engineering
Mining Engineering
Our teams and engineers are ready to offer solutions for a vast range of uses or needs and are eager to meet your expectations regardless of border, national or other kind of restraints.
From your specialized private project and your personal special vision, up to infrastructure projects and complex structures, we own the expertise and know how to fulfill tasks from early conception to final delivery and operation.
Demanding clients and competitive companies of the infrastructure industry are among our local and international successful partnerships.
Those partnerships are the best proof of our specialty to timely deliver and most importantly of the fact that we are the reliable partner you are looking for.
Civil &
Structural Engineering
We strongly believe in a unique and unnegotiable concept applied to all structures and buildings that is stable, safe, operational and achieving a lifecycle construction.
This concept is the core of all our projects from a single residential building, to a specialized industrial plant and a complex metro station building compound.
-Building Structures
-Underground Structures & Tunnels
-Bridges & Viaducts
-Retaining Walls & Deep Foundations
-Seismic Analysis and Protection
-Building Rehabilitation
-Detailed Reinforcement Design – Shop Drawings
-Architectural and Landscape Designs
-Special Steel, Pre-stressed and Reinforced Concrete Structures
Geotechnical
Engineering
Our expert engineers have succeeded in making our company one of the leaders in the field of Geotechnical Engineering.
We take pride in being responsible and involved in all major infrastructure project in Greece providing our services to local communities and private sector in addition to also playing key partner roles in numerous international flagship projects.
Our consistent orientation to global market is documented through our involvement in numerous international projects, including multi-disciplinary infrastructures.
Our services extend from inception to detailed design, construction supervision and project management.
-Ground Investigations, Geological Mapping
-Geotechnical Instrumentation & Monitoring
-Rock Mass and Soil Monitoring & Behavior Analysis
-Earthworks, Cuts, Embankments
-Highway Geotechnical and Alignment Designs
-Shallow & Deep Foundation
-Ground Improvement Designs
-Temporary Works Designs & Retaining Structures
-Seismic Design
-Hydrogeology, Flood Prevention and Dewatering
-Hazard Assessment & Mitigation
-Slope Stabilization
-Landslide Rehabilitation
-Dam Design
Tunnel
Engineering
Omikron Kappa offers a unique range of tunneling services and is a pioneer engineering company in the coherent tunneling sector.
From Preliminary to Detailed Engineering, we have studied more than 200km of Detailed Designs the last 20 years.
We have breakthrough ideas, documented experience and are able to support any kind of tunneling works.
We maintain expert engineers and all needful scientific tools to support owners, developers, stakeholders and contractors in their projects' evaluation.
Our long-standing experience numbers a series of Public Private Partnership Projects, both local and international.
Through all our local and international partnerships we have developed a profound understanding of project success, covering all aspects/requirements.
Our services include the following:
-NATM Tunneling
-TBM tunneling
-Soft Ground Tunneling
-Shafts & Pits
-Hydraulic & Utility Tunnels
-Tunnel Ventilation Systems
-Tunnel Rehabilitation
Mining
Engineering
Capitalizing on more than twenty-five years of local and international experience, we offer value added services to Clients throughout the entire mine lifecycle.
Our implemented techniques support greenfield development, expansion, closure and environmental rehabilitation, all according to EC Standards.
We have the human and scientific tools to provide our Clients with innovative yet practical solutions to meet their development, production, efficiency and environmental targets.
-Surface and Underground Mining Design
-Orebody Evaluation & Geostatistical Analysis
-Mine Infrastructure & Plant Facilities
-Mine Development & Extraction Planning
-Mine Ventilation, Safety & Health
-Geological, Hydrogeological and Geotechnical Mining Evaluation
-Geotechnical Design & Slope Stability of Open Pits
-Water Management, Dewatering & Waste Disposal Areas
-Mine Investment Analysis
-Reclamation, Closure & Post Closure Management
Independent Engineering & Construction Follow Up
Licensed and chartered to provide Independent Engineering and Construction Follow Up Services.
Explore