PATHE Motorway – Kakia Skala Section, Greece
Kakia Skala section of PATHE (Patra-Athens-Thessaloniki-Evzoni) is approximately 50km outside Athens. Section of 9.5km has three lanes plus an emergency lane per direction and five highway tunnels AS1, AS2, AS3 and AS2d and AS3d later named after Geraneia, Efpalinos, Aithra, Skiron and Thiseas motorway tunnels.
Services:
Detailed designs for AS1 & AS2 twin bore highway tunnels (length 1126m and 1909m respectively) and AS3 highway tunnel 1081m long (horse-toe shaped with excavation cross section 192m2) including relevant works (E/M niches, emergency niches and eight pedestrian-vehicular cross passages, horse-toe shaped, 3.76m wide and 3.00m high). Rockfall protection, Retaining walls, Structures, Bridges, Culverts, Earthworks.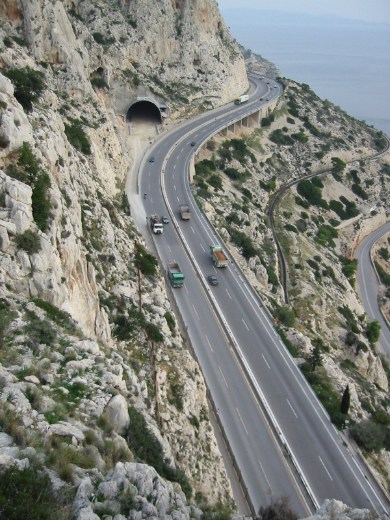 CLIENT
Construction companies
LOCATION
Central Greece
SCOPE
Tunnels / Landscape Rehabilitation / Bridges / Rockfall Protection / Slope Stabilization / Hydraulics / Highway Structures / Earthworks