Mumbai Metro Line 3 Detailed Designs, India
Mumbai Metro Line 3 is a 33.5km long underground corridor, consisting of 27 key stations, 26 underground and 1 at grade, TBM and NATM tunnels, cross passages, entrances/exits, shafts and associated metro infrastructures.
Mumbai Metro Line 3 Contract UG-05.
Services include:
Preliminary & detailed design services for alignment, geotechnical, hydraulic, architectural & MEP design for four (4) underground metro stations at Dharavi, BKC, Vidyanagri & Santacruz, two (2) single track TBM tunnels (~8km total length), NATM sections (~600m total length), one (1) Mid-Ventilation Shaft at Agreepada Hutment, temporary bridges design for traffic deviation during construction.
Construction follow up and on site services.
Mumbai Metro Line 3 Contract UG-07.
Services include:
Design and construction of underground stretch including three (3) underground stations at Marol Naka, MIDC and Seepz and associated tunnels. Impact assessment of the TBM tunnels to existing overlaying structures, evaluation and verification of impact on existing viaduct of Line 1 of Mumbai Metro due to the under-passing of TBM tunnel of Metro Line 3.
(Designs provided in the frames of OMIKRON KAPPA – PSP – INDUS CONSULTRANS JV India.)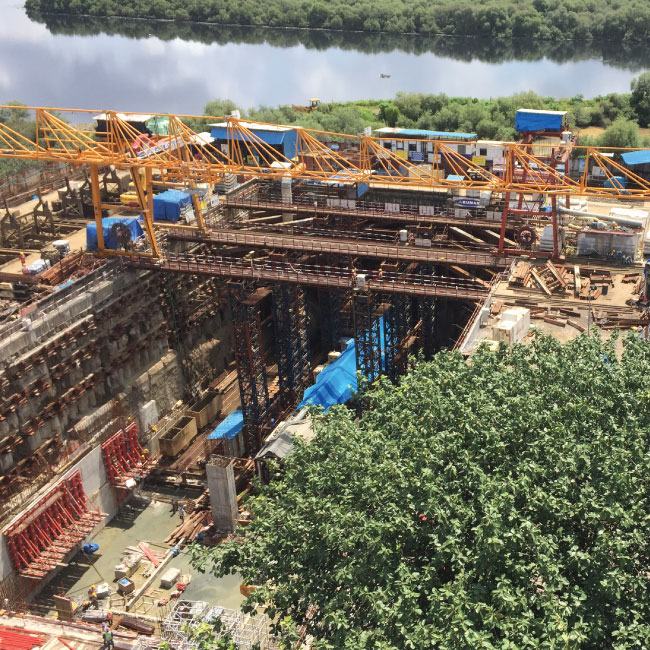 CLIENT
JV J. Kumar Infraprojects Ltd / China Raillway No.3 Engg Group Co. Ltd
LOCATION
Mumbai, India
SCOPE
Underground Metro Structures / Buildings / Metro Stations / TBM Tunnels / NATM Tunnels / Construction Follow Up
Downloads