Doha Metro Gold Line RTC 040/2012 – Qatar Integrated Railway Project (QIPR)
Contract RTC 040/2012 – Qatar Integrated Railway Project (QIPR) – Gold Line Underground by the Qatar Railways Company. The scope of project includes design and construction of Gold Line Underground Metro System, Civil, MEP and Architectural Works. Project includes infrastructure works of 29km double track Metro system out of which 23.4km tunnels of cross section 36.6 m², with boring of underground tunnel using Tunnel Boring Machine (TBM) 6 no. EPBM TBM 7.15m excavation diameter (1 million m³ of excavation, 158,000m³ of concrete, 15,152 no. segments) and 10 no underground stations constructed with Cut & Cover method (207,300m² closed area, 190,000 tonnes reinforcement, 950,000m³ concrete, 3.5 million m³ excavation, 1.5 million m³ backfill) and 24 no. cross-passages (0.2km NATM tunnel).
Services include:
Underground Tunnels & Cross Passages. Provision of engineering and design consultancy services in association with respective construction documentation (shop drawings).
Engineering and design consultancy services, design of temporary works, detailed design reinforcement drawings (shop drawings) & structural reinforcement design for 10 UG Stations, switch boxes, subways&entrances, structures, cross-passages and supplementary Metro infrastructure and stabling yard.
Engineering and design consultancy services for Design only stations & subways. Final alignment, architectural, geotechnical & structural designs. Design guideline reinforcement drawings and BIM/Revit design and production of 3D reinforcement guideline drawings.
On site engineering design team and on site consultancy services for all projects.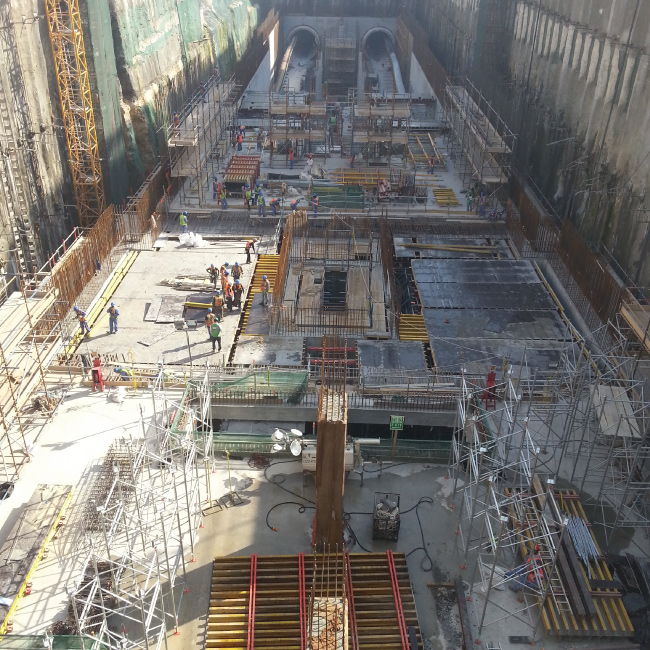 CLIENT
ALYSJ Joint Venture (AKTOR – L&T – YAPI MERKEZI – STFA – AL JABER Joint Venture)
LOCATION
Doha, Qatar
SCOPE
Underground Metro Structures / Buildings / Metro Stations / TBM Tunnels / NATM Tunnels / Construction Follow Up
Downloads